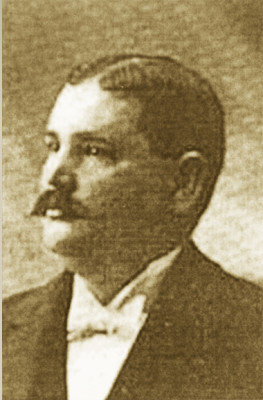 That's right, an old Henderson bourbon brand is being reborn in Louisville amid a 21st-century resurgence in popularity for Kentucky spirits.
Henderson native Corky Taylor and his son Carson last week announced they are relaunching the Kentucky Peerless Distilling Co. near downtown Louisville, with production to begin in March 2014.
Corky Taylor's great-grandfather Henry Kraver — "my father's mother's father" — owned the old Kentucky Peerless distillery in Henderson, expanding it during the first two decades of the 20th century into one of the region's most prominent producers of whiskey.
Henderson resident Henry Kraver, who owned the Kentucky Peerless distillery here, was himself a nearly peerless businessman here in the early 20th century. In addition to the distillery, he owned the Kraver and Kentucky movie theaters in downtown henderson; the Henderson Brewery at Fifth and Water streets; and was one of the founders of First National Bank, where he served as president.
Initially, the Taylors will bottle and sell an unaged moonshine-style whiskey. But they also intend to age a four-year-old bourbon that will be sold under the Peerless brand. And eventually they plan to market a premium six-to- eight-year-old bourbon named for Henry Kraver.
"It is exciting to see our bourbon base grow," Louisville Mayor Greg Fischer said in a statement. "Peerless says it all when it comes to our position in the bourbon market. The history and commitment of the Taylor family adds an extra element of interest making this operation and our city unique and vital destinations."
"This is the perfect success story," said Greater Louisville Inc. President and CEO Craig Richard. "This dedicated family is achieving personal goals by investing in the community and creating a better environment for all. We are pleased to welcome this addition to our thriving food and beverage sector, and we are proud that the Taylors call Louisville home."
Henry Kraver was one of Henderson's most successful businessmen in the early 20th century. He owned the Kraver and Kentucky movie theaters here, and was one of the founders of First National Bank, where he was president. He also owned the Henderson Brewery at Fifth and Water streets and was one of the original investors in the Soaper Hotel.
"Probably his best claim to fame, though, was that he presided over what was the largest Kentucky distillery west of the Green River prior to Prohibition," Gleaner reporter and local history columnist Frank Boyett reported in a column earlier this year.
The E.W. Worsham Distillery was founded in 1881 by E.W. Worsham and J.B. Johnston. It was located on 4.5 acres on McKinley Street between Washington and Second streets.
Kraver had controlling interest of the enterprise by 1900, having secured initial financing from the Mann Bros., the Tri-state's most famous department store at Second and Main streets. The Mann family had been responsible for bringing a young Henry Kraver to Henderson to work as a clerk at their store here in 1885.
After he gained control of the Peerless distillery, he increased its capacity from 11 barrels a day to 200 a day, employing approximately 50 people. (Corky Taylor believes it was the largest distillery outside of Bardstown at the time.)
By 1913, besides the distillery itself, the company had three bonded warehouses, a cooper shop with adjoining barrel storage facility and grain bins. Patriotically, in 1917, it ceased production to save corn for the war effort.
"Kraver was an extremely astute businessman," Boyett reported. "He saw the writing on the wall and sold the distillery business at a handsome profit before Prohibition knocked the legs from under it, although he retained the real estate until 1925."
Taylor said Kraver continued to sell whiskey "for medicinal purposes" through pharmacies that served customers who had a doctor's prescription for spirits.
The 78-year-old Kraver died Jan. 21, 1937.
Although Corky Taylor never knew his great-grandfather, the family's involvement in producing bourbon had long interested him. "I kept a lot of Henry Kraver stuff and pictures," he said. "I always wanted to get in the distilling business and use the Kentucky Peerless name."
After leaving Henderson, "I was in the financial services business in Sarasota for 20 years," Taylor said. "I sold the company to a New York group."
"I retired for two years," he said. "It drove me crazy."
But, Taylor said, "All of a sudden, I'm capable of getting into the (distilling) business. I'm financing 100 percent of it."
He said he has purchased a building on Tenth Street just west of downtown Louisville.
"As you're driving into Louisville (eastbound along Interstate 64), you can see it," Taylor said. "It's right before the Ninth Street exit."
Conversion of the building into a distillery will begin this year.
"We've ordered a still," a 30-foot-tall continuous copper still that will be built by hand by Louisville-based Vendome Copper and Brass Works Inc. The distillery will feature it own bottling line, a retail store and some 8,000 square feet for storing bourbon that will be aged in charred oak barrels. Other barrels are expected to be stored off-site in Louisville.
The Taylors are in the process of seeking federal and state licenses, he said.
"We will have a master distiller coming from Bardstown to trade Carson," who has worked as a homebuilder, "to be a master distiller," Corky Taylor said. The master distiller from Bardstown "will be here a year or whatever it takes to make the (initial) product and train us."
"We'll probably produce 12 to 15 barrels a day," Taylor said.
That will make Peerless a niche producer by today's standards, or even Henry Kraver's.
"Here lately, micro-distilleries have really come on strong," Taylor said.
"We're going to use the same bottle and the same logo," as the old Peerless, he said. "It will be like going back 100 years."