There's still plenty of time left in 2013, but at The Manual, we are always looking ahead to the next great thing to keep on your radar. It is our job to keep you informed, that's why you need to know about the Peerless Distilling Company, which is undergoing a revival in the spring of 2014.
Kentucky is one of the South's most historic states; and the Peerless Distilling Company was once a big part of the Bluegrass State's great culture. Originally opened in Henderson, Kentucky during the late 1800's, under the ownership of local businessmen HenryKraver, Peerless Distilling operated until Mr. Kraver's death in 1938. During Prohibition, the distillerysurvivedby obtaining a federal license to provide whiskey for "medicinal purposes" and continuedserving the state's faithful patrons.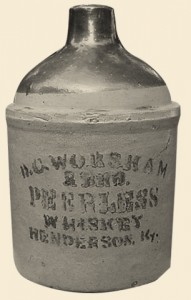 Since 1938, the distillery has been closed. However, as part of the Whiskey Row renaissance currently sweeping Louisville's Ohio River shore, Mr. Kraver's great-grandson, Corky Taylor, will be re-opening the distillery along with his own son, Carson Taylor. The new Peerless Distilling Company will feature a continuous copper still, which is handmade by Kentucky firm Vendome Copper and Brass. The business will also incorporate it's own bottling line and be open to the public. In addition, the day-to-day operations will be overseen by both Carsons—keepingfirmly in line with Peerless' historical family values.
After they re-open, Peerless Distillery will bottle and sell its own brand of moonshine, while simultaneouslydeveloping a 4-year old bourbon. Ultimately, the goal is to add a premium, small-batch bourbon to the product line called "Henry Kraver," in honor of Peerless' founding father.
So, while you should certainly enjoy all the great things to come in 2013, it's never too early to start gearing upfor 2014; especially when there is brand new batch of booze to try.